Skincare 101: Removing Makeup Before Bed is Crucial
The guilt is real. That morning after a night out, when you wake up to a horrific orange-stained pillow and runny black under eyes! Ugh! Why didn't I bother removing my makeup before bed?! Truth is, it happens to the best of us. We get it, removing makeup is a chore.
Perhaps you landed here to find motivation the next time you're too lazy to move from your bed. Or maybe you're simply seeking answers on whether or not skipping makeup removal has a direct impact on your skin's health. No sweat! Whatever your motive may be, this post will hopefully give you the answers you're looking for.
Face - Shine bright like a diamond
That glow though. Makeup itself doesn't cause considerable damage; it's the improper removal of makeup that's the culprit. Many foundations and powders have a tendency of settling into the crevices and fine lines of the face, often resulting in breakouts and possible premature skin aging.
Don't sweat it, it's not too late! You can reveal healthy new skin cells for a brighter complexion simply by cleansing properly and exfoliating before you hit the sack.
Looking for the best face wash on the market? There's no need for that. Give your skin the love it deserves with a soft microfibre towel like Face It. The innovative heart-shaped towel deeply cleanses and exfoliates your skin simultaneously with just water! If you're lazy (like we sometimes are), it's the perfect one-step makeup remover that will significantly speed up your face cleansing routine.
Eyes –  Free all follicles!
We're talking mascara and eyeliner. Some of us just can't live without them. And that's totally fine! Again, the products themselves are not necessarily harmful. It's the build up of gunk that can accumulate around the follicles if it's not properly removed.  Did someone say nasty?!
Furthermore, leaving heavy product on your eyelashes can damage them and cause them to shed quicker. Oil-based removers can help ensure every bit is removed. If you have sensitive eyes, we recommend Clarins Gentle Eye-Makeup Remover.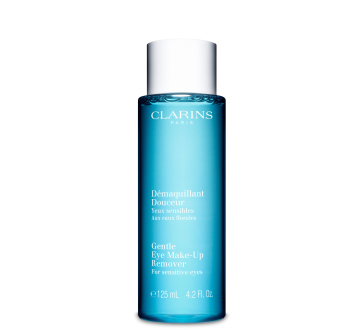 May your lashes be forever long and strong!
Lips - Let them breathe!
Give a goodnight kiss to your lipstick every night, no exceptions. Sleeping with remnants of your lipstick on your lips can result in ingestion of the countless harmful chemicals found in lip products. Unless a product states that it is 100% organic or natural, you might want to give your lips a good scrub. Sleeping with lipstick on also leads to dry, cracked lips. Trust us, you'll want to make sure they're free of stains or else it will be harder to remove the next morning.
If you need a quick fix, you can use petroleum jelly to help remove stains, or the Face It towel works too! This beauty works double duty!
Looking for something that will deliver baby-smooth lips? We are completely obsessed with Sara Happ's variety of lip scrubs, perfect for restoring and exfoliating your luscious pucker.
♥ ♥ ♥
Voilà! Removing makeup has never been easier.
To summarize, a good tip to remember is resisting temptation = good habits. Fight the urge to sleep before removing makeup and it will become a habit. What's your most important accessory? Glowing, healthy skin, of course.
Do you have a makeup removal routine before bed? We'd love to hear your thoughts in the comments below!
LOVE,
Karine & Terry♥ 
---
Disclaimer: clothinabox.com does not guarantee any specific results from the procedures mentioned and the results may vary from person to person. The topics in these pages including text, graphics and other material contained on this website are for informational puposes only and not to be substituted for professional medical advice.